overview
BMS and Automation solutions to help you automate and control processes, safe time, money and energy
Automation or automatic control is the use of various control systems for operating equipment such as machinery, processes in factories, boilers and heat treating ovens, switching on telephone networks, steering and stabilization of ships, aircraft and other applications and vehicles with minimal or reduced human intervention, aimed at achieving higher productivity, improved quality of the final product, efficient use of energy and raw materials, improved safety in working conditions, etc.
We offer solutions that provide the following key benefits:
Full integration of all systems
Web-based and fully automated
Complete control over management and maintenance
Remote control and control
Predictable maintenance instead of preventive
Increased service life for less maintenance systems
Return on investment with increased profit
Unique and customized solutions
Smart Buildings for Making Smart Cities
Our mission is to provide our customers with data and tools to achieve significant improvements in the management of their production processes. We have a team for process automation, control and surveillance systems, food and beverage industry, telemetry and energy control and management. Hence, the automation of production is accompanied by the automation of processes in the food industry, textile industry, transport industry and other branches. Security systems and energy applications complement our expertise. With the help of situation analysis and evaluation of results, we are always able to propose quality solutions and implement them from the idea to the final solution.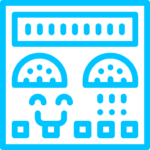 Automation cabinets
The rapidly changing markets in the age of Industry 4.0 place high demands on modern, complex product concepts such as monitoring and control technology cabinets in automation technology.
As a company in automation technology, we can flexibly adapt our products to your processes. In doing so, you benefit not only from our wealth of experience over the years and our project coordination expertise, but also from the efficiency of our in-house manufacturing.
Automation cabinet is a metal cabinet in which we mounted all the equipment for automation like PLC, I/O modules, power supply, automatic fuse etc.
Provided by our partners: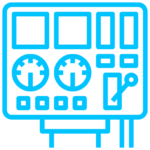 Operator panels
Operator panels or HMI (Human Machine Interface) Panels are placed on the automation cabinets close to the equipment which we control. In this way the operator can efficiently control the installation. They can have access to data and logs directly from the database server.
Boasts excellent performance with better operation experience compared to its predecessor.
Industrial Human Machine Interface (HMI) series are panel PC and operator panel for a wide range of industrial and factory automation applications. The touch panel computers come in various sizes especially for size-sensitive factory environment.
Powerful and high resolution touch screen panels with high contrast TFT LCD screens gives superior image clarity, wide viewing angle and robust housing. Screens from 4.3" to 15", widescreen (16:9) or square(4:3) format.
Panels have been designed for use from simple applications as well as for complex systems. Connection to various plc systems using more than 100 build-in drivers through serial RS232/422/485 or Ethernet ports.
Provided by our partners: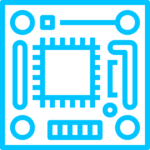 Controllers and I/O modules
A programmable logic controller (PLC) or programmable controller is an industrial digital computer which has been ruggedized and adapted for the control of manufacturing processes, such as assembly lines, or robotic devices, or any activity that requires high reliability, ease of programming and process fault diagnosis. PLCs can range from small modular devices with tens of inputs and outputs (I/O), in a housing integral with the processor, to large rack-mounted modular devices with a count of thousands of I/O, and which are often networked to other PLC and SCADA systems.
Modular integrated system with different hardware and software components allow system integrators to fully adapt by application demands and that makes it open towards users. Beside standard input/output points our controllers include numerous ways of communication trough serial RS232, CAN, LAN or Internet through protocols A-bus, ModBus and support easy connection to other systems like KNX, LON, BacNet, M-bus.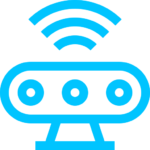 Field equipment
This is the core of the SCADA system, gathering data on the process and sending control commands to the field connected devices. It refers to the computer and software responsible for communicating with the field connection controllers, which are RTUs and PLCs, and includes the HMI software running on operator workstations. In smaller SCADA systems, the supervisory computer may be composed of a single PC, in which case the HMI is a part of this computer. In larger SCADA systems, the master station may include several HMIs hosted on client computers, multiple servers for data acquisition, distributed software applications, and disaster recovery sites. To increase the integrity of the system the multiple servers will often be configured in a dual-redundant or hot-standby formation providing continuous control and monitoring in the event of a server malfunction or breakdown.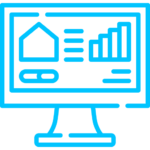 Software
Supervisory control and data acquisition (SCADA) is a control system architecture comprising computers, networked data communications and graphical user interfaces (GUI) for high-level process supervisory management, while also comprising other peripheral devices like programmable logic controllers (PLC) and discrete proportional-integral-derivative (PID) controllers to interface with process plant or machinery. The use of SCADA has been considered also for management and operations of project-driven-process in construction. The operator interfaces which enable monitoring and the issuing of process commands, like controller set point changes, are handled through the SCADA computer system. The subordinated operations, e.g. the real-time control logic or controller calculations, are performed by networked modules connected to the field sensors and actuators. SCADA systems are used by industrial organizations and companies in the public and private sectors to control and maintain efficiency, distribute data for smarter decisions and issues in the communication system, to help reduce congestion. SCADA systems work well in many different types of enterprises because they can range from simple configurations to large, complex installations.