overview
Proven network infrastructure solutions as a foundation for your network
Quality and well structured network is essential for deploying new devices as well as new feature-rich services and applications that have increased bandwidth and transmission speed demands. Moreover, with many business processes going digital, today's networks must support the delivery of big amounts of data without deterioration in performance. Mobility of users and support for high density environments are also vital for supporting new scenarios implied by the process of digital transformation.
Our portfolio of network infrastructure solutions helps customers:
Lay the groundwork for an organized and well structured network topologies.
Interconnect devices using the latest advancements in the field of structured LAN cabling and fiber optics.
Provide reliable connection for remote hard-to-reach sites.
Achieve great network performance and speeds, to support modern devices and applications.
Provide fast and reliable connection for mobile users even in high density environments.
Future proof their investment to support the latest trends in digital transformation.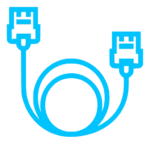 LAN Cabling
Structured cabling is the design and installation of a cabling system that will support multiple hardware uses and be suitable for today's needs and those of the future. With a correctly installed system, current and future requirements can be met, and hardware that is added in the future will be supported.The structured cabling system begins at the point where the service provider (SP) terminates. The methods we use to complete and maintain cabling installations are relatively standard. The standardization of these installations is necessary because of the need to ensure acceptable system performance from increasingly complex arrangements. The industry standard term for a network installation that serves a relatively small area (such as a structured cabling installation serving a building) is a local area network (LAN). Structured cabling installations typically include: entrance facilities; vertical and horizontal backbone pathways; vertical and horizontal backbone cables; horizontal pathways; horizontal cables; work area outlets; equipment rooms etc.
The main components of cabling are:
Cable pathways: shafts, conduits, raceways, and floor penetrations that provide routing space for the cables.
The actual cables: optical fiber, twisted-pair copper, coaxial copper, or some combination of these.
Connecting hardware: connecting blocks, patch panels, interconnections, cross-connections, or some combination of these components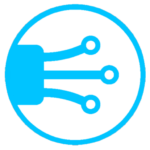 Fiber Optics
Fiber optics, or optical fiber, refers to the medium and the technology associated with the transmission of information as light pulses along a glass or plastic strand or fiber.
Fiber optic cables are used mainly for their advantages over copper cables. Advantages include:
Support of higher bandwidth capacities.
Light can travel further without needing as much of a signal boost.
They are less susceptible to interference, such as electromagnetic interference.
They do not need to be maintained or replaced as frequently.
Fiber optics is used long-distance and high-performance data networking, in scenarios like Data Center networks, long distance connections between networks on separate sites, carrier networks, critical telecommunication networks, etc.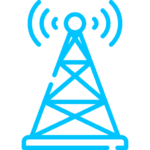 Radio Links
The EnGenius EnStation is a family of Outdoor Access Point/Bridges designed to extend the wireless network over short and long distances and to substantially broaden wireless transmission ranges, delivering high bandwidth and wireless speeds in challenging, hard to reach point-to-point and point-to-multipoint installations.
All EnStation models feature 26 dBm output power and high receive sensitivity, coupled with embedded high-gain directional antennas that emit a narrow signal beam to deliver stable robust connectivity, optimal bandwidth and high speed data rates over extremely long distances — up to 5 miles in clear line-of-sight point-to-point deployments. EnStation extends the wireless network across large campus environments, over vast acreage in parks and recreational facilities, industrial, farming and ranching properties; in sizable indoor structures like arenas, shopping malls, warehouses and convention centers and in other challenging settings.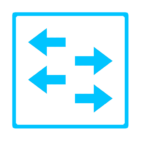 Switching
As companies and institutions embark on digital transformation, they learn that their underlying network infrastructure is the fundamental enabler of digital transformation. Yesterday's network architectures aren't equipped to support today's user needs—or the new technologies that enterprises must implement to keep ahead of the competition and support digital transformation. In this landscape of transformation, companies and institutions must rethink the very foundation of the network to reduce costs, improve performance and security, and support new devices, technologies and business use cases.
We offer manageable layer 2/layer 3 LAN switches that employ the latest technology innovations, both stackable and chassis-based, supporting power over ethernet (PoE), interface speeds from 100 Mb/s up to 40 Gb/s, provide high port density and switching capacity from 10G to 100G suitable for office, campus and data center networks.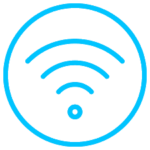 Wi-Fi Solutions
Mobility is one of the buzz words mentioned in context of the ongoing rapid digital transformation. Nowadays a big part of users prefer to be connected wirelessly with their office PC and also with their company or private mobile device, while they are completing their usual daily tasks by using feature rich communication services or corporate applications, or while simply taking time off enjoying high-quality media content. Performance, connection stability and reliability even in high density environments are key when investing in a corporate wireless solution. Also, a solution that can be configured, managed, monitored and troubleshooted from a central location makes it much easier to maintain and scale it no matter the size of the organization.
Our Wi-Fi solutions bring all these qualities to the table, incorporating a portfolio of managed indoor/outdoor access points and switches, as well as management tools at no additional license fees, making you investment future proof.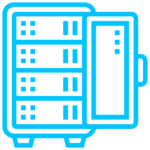 Accessories
Today, IT managers spend hundreds of hours on selecting the finest Routers, Servers and Storage devices for their infrastructure projects, but all these need a safe and secure place to be housed. Oftentimes, this expensive equipment is purchased in the beginning of the project and then, often in a rush, an enclosure is selected and purchased. That is when the IT managers pay a heavy price for their initial oversight, as these enclosures can be not very well suited for their equipment. Lande offers a wide range of cabinet models, allowing you to find a proper housing for your IT equipment. Various widths, depths, and heights are offered for your selection. In addition, Cabinet accessories such as fans, hardware shelves, power strips complete the installation and help you organize and maintain your equipment effortlessly.
At the end of the day a well chosen cabinet will not only look good, add security, make it easier to maintain the equipment, but also increase the lifespan of your devices, saving you money.