overview
Reliable hardware for your applications, services and daily tasks
Together with the network, the hardware is another essential building block of today's ICT projects and infrastructures. It must be able to support new trends in software development, data storing, virtualization, cloud computing and more, and at the same time be reliable, flexible, scalable, easy to integrate and maintain, and not break the organizational budget.
Our portfolio of hardware infrastructure solutions helps customers:
Build foundation for their applications, services, data and business processes.
Future proof their investment to support current and future technology trends and concepts.
Provide reliable hardware for users to perform their daily tasks on.
Provide scalability and flexibility to support future growth.
Easily integrate them into their existing infrastructures.
Easily manage and maintain their hardware infrastructure without stretching the resources, both human and financial.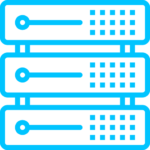 Servers
Dell™ PowerEdge™ server solutions are built to support the work that IT organizations do. They are engineered to handle the most demanding business applications and designed with specific features to better run workloads like HPC, collaboration, database, ERP, business intelligence and data warehousing. As the foundation for a complete, adaptive IT solution, Dell PowerEdge servers deliver dramatic performance and management advantages that more effectively and efficiently power the business applications the customers run most. Combined with the innovative OpenManage™ systems management portfolio and industry-leading workload solutions, PowerEdge servers provide technology that is intelligent, yet simple, giving customers the power to do more in even the most complex environments. Our portfolio of server solutions helps customers:
Achieve more – Increase application performance and availability while gaining scalability.
Maximize efficiency – Use IT to boost productivity and get the most out of every dollar.
Ensure business continuity – Provide secure, continual access to IT services that power your business.
Provided by our partners: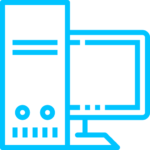 Workstation
Business leaders worldwide are balancing two objectives: keeping the business running smoothly by preventing security and productivity disruptions while simultaneously tapping into the incredible potential of new innovations. Dell, with its commercial PC portfolio designed to help businesses of all sizes achieve that critical balance. In addition to being the world's most secure and manageable commercial PCs, Dell's updated commercial lineup features advances in smart design, productivity, sustainability and cost-effectiveness to meet the ever-expanding needs of a global, diverse workforce. With performance driven specifications and availability of different form factors, every user can be assured to get their job done in a fast and reliable manner while being at the office or out on the field.
Provided by our partners: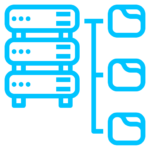 Data Storage
The amount of unstructured data, including digital images and office documents, is expected to grow significantly over the next several years. When you add to this the continued proliferation of structured data from databases, managing enterprise storage can quickly become costly and complex. Dell Compellent NAS products enable you to consolidate file- and block-based data onto a single unified platform designed for efficiency and scalability.
The solution offers innovative features such as Data Progression, which automatically migrates inactive data to lower-cost drives, and Dynamic Capacity, which enables you to provision any size volume upfront yet only consume capacity on write. In addition, the separation of file-servicing and application-servicing, and the clustering options help you avoid bottlenecks and achieve high level of data/application availability and reliability. For fast recovery purposes, space-efficient snapshots called Replays can be created.
The solution is managed through a single wizard-based interface with built-in intelligence, simplifying the management tasks for administrators.
Provided by our partners: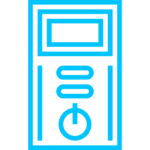 Uninterruptable Power Supply
In today's world UPS is not enough for basic power protection, but needs to be more robust, high density compact, ECO friendly, provide flexible power protection to support mission critical equipment; electro-medical equipment; light industrial application. G-TEC is proud to introduce innovative, high quality UPS systems that can deliver clean, safe and regulated power supply to protect your critical mission equipment, so as to safeguard your valuable equipment and critical data from any abnormal power disturbances, such as surges, blackouts and lightning strikes. UPS power capacity is available from 1kVA to 20kVA 1/1 (1/1 stands for single phase input and single phase output); or from 10kVA to 20kVA 3/1 (3/1 stands for three phase input and single phase output). G-TEC UPS systems offer:
Simplified installation
High Power Density
Strongest performance
Selectable configuration via LCD
Real time event logs
Self monitoring and fault diagnosis
External battery connection and much more…
Provided by our partners: