overview
Your data today is more valuable than ever, protect it
Today, the volume of enterprise data is exploding across industries! We talk about petabytes, and even exabytes, of data strewn across data centers, file shares, databases, and cloud storage and backups. Yet, a few organizations have the visibility of their sensitive data they need to protect.
Most businesses simply do not know what sensitive data they have, where it is, how it flows, who can access it, and its risk of exposure. In organizations that are complex or have siloes of data, the lack of a clear view of sensitive data can make it very difficult to apply effective policies and controls to protect this most critical asset.
Third-party risk is also a big concern. Vendors, partners, service providers, and others you share data with all add to your organization's risk not only for a data breach or a failed audit, but also collateral damage to your customers' trust, your brand value, and your partner ecosystem.
Recently, a number of high-profile data breaches have put data privacy in the spotlight. From lost business and reputational damage to devastating financial and legal consequences, the impact of a data breach can haunt companies for years.
However, that is just a part of the story. Stringent data privacy laws continue to pop up around the world. This ever-evolving regulatory landscape leaves companies to interpret and comply with a growing patchwork of state, global, and industry-specific data privacy and
security laws, creating significant risks for compliance. Clearly, companies need a simpler way to comply.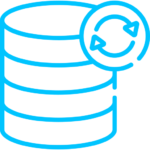 Backup and Replication
NAKIVO Backup & Replication is a fast, reliable, and affordable data protection and site recovery solution for both SMBs and large enterprises. Built with automation and reliability in mind, NAKIVO Backup & Replication offers enterprise-grade level functionality, while being lightweight and easy to use. The solution offers a complete suite of backup, replication, and recovery features for physical, virtual, and cloud environments. By providing you with great flexibility and multiple automation options, NAKIVO Backup & Replication saves you time and resources, allowing you to direct your attention elsewhere. Our solution can help you protect critical data and applications in a secure and reliable manner, then recover what you need in just a few clicks. As a result, for example when ransomware strikes, you can perform successful ransomware recovery eliminating the need to pay out the ransom and reduce the impact of a malicious attack.
Top reasons to choose Nakivo:
Simplicity and Ease of Use
Flexibility of Deployment
High Reliability and Security of Backups
Flexible Scheduling of Backup jobs
Automated (policy-based) Data Protection
Remote Site Data Backup
Instant Recovery of Data
Automated Disaster Recovery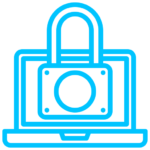 Data Loss Prevention
Data protection has always been an object of serious attention by enterprise security executives and compliance officers, but the recent privacy laws will undoubtedly elevate data protection to the boardroom due to the potentially serious consequences of noncompliance. What makes it even more challenging is that companies of all sizes are adopting cloud-based services, such as Microsoft Office 365, to give their employees greater flexibility and easier access to core business applications. As regulations and corporate needs place increasing demands on IT to ensure safe data handling, deploying necessary protective solutions can seem
daunting. Some data loss prevention (DLP) products require substantial effort to deploy and typically have large ongoing consulting costs. Some DLP products leave it up to IT to know about all the data that needs to be protected, adding administrative burden and causing false positives. Others rely on the IT administrator to manage disparate consoles across multiple environments—endpoints, network, and the cloud.
Built from the ground up, our DLP solution quickly and effectively protects your data wherever it may be. We make it easy to get the solution up and running by delivering it as simple components that can start analyzing your data in minutes, not months. Extending your on-premises DLP policies to the cloud has never been easier.
Key Advantages:
Device-to-cloud DLP – Connect and synchronize on-premises DLP and cloud DLP policies in less than one minute
Unique capture technology – Aid with forensic analysis of data loss events that occurred prior to creation of rules; Visibility on how your data is being used to help fine-tune rules and policies
Flexible end-user classification – Alleviates administrative burden and increases end-user data protection awareness; Native manual classification and third party classification integration options
A single-pane-of-glass management experience – Centralized console for all policy and incident management
Provided by our partners: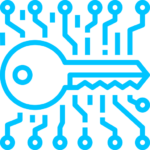 Network Encryption
Networks are under constant attack and sensitive assets continue to be exposed. More than ever, leveraging encryption is a vital mandate for addressing threats to data as it crosses networks. Thales High Speed Encryption solutions provide customers with a single platform to 'encrypt everywhere'— from network traffic between data centers and the headquarters to backup and disaster recovery sites, whether on premises or in the cloud. Thales's comprehensive network traffic encryption solutions use Layer 2 and 3 encryption to ensure security without compromise. Ensuring maximum throughput with minimal latency, Thales Network Encryptors allow customers to better protect data, video, voice, and metadata from eavesdropping, surveillance, and overt and covert interception—all at an affordable cost and without performance compromise.
Thales High Speed Encryption advantages:
Robust Security for Sensitive Traffic – Thales Network Encryptors, hardware-based, stand-alone appliances deliver robust encryption and FIPS 140-2 Level 3 tamper-resistant key management capabilities.
Maximum Performance and High Availability – Thales High Speed Encryption solutions have been proven to deliver max uptime in the most demanding, performance intensive environments.
Optimal Flexibility – Thales High Speed Encryption solutions offer flexible, vendor agnostic interoperability, meaning they're compatible with all the leading network vendors throughout your network.
Crypto-Agility – Thales Network Encryptors are crypto-agile, meaning they support customizable encryption for a wide range of elliptic and custom curves support.
Transport Independent Mode – Thales Network Encryptors are the first to offer Transport Independent Mode (TIM) – network layer independent (Layers 2, 3, & 4) and protocol agnostic data in motion encryption.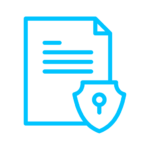 Data-at-Rest Encryption
Safeguarding sensitive data requires much more than just securing a data center's on-premises databases and files. Enterprises today use a mix of complex on-premise and cloud environments that leverage different technologies and security standards, and can potentially leave critical data exposed. To further complicate the problem, cyber-attacks have grown in sophistication and power. New compliance and regulatory mandates around protection of sensitive information keep on coming, and existing regulations have become more stringent.
CipherTrust Transparent Encryption delivers data-at-rest encryption with centralized key management, privileged user access control, and detailed data access audit logging that helps organizations meet compliance and best practice requirements for protecting data, wherever it resides. The FIPS 140-2 compliant CipherTrust Transparent Encryption agent resides at the operating file-system or device layer, and encryption and decryption is transparent to all applications that run above it. CipherTrust Transparent Encyption provides rich access controls, which allow organizations to determine who can access data, when they can access it, and what type of access they have.
Key advantages:
Transparent data protection
Seamless and easy to deploy
Define granular access controls
High-performance hardware accelerated encryption
Comprehensive security intelligence
Broadest system and environment support